In case you missed it, there was some seriously big news this weekend down in the Cape. The Western Cape. The place with a GawdZille and water for days.
As many of you know, Rocky Road Runners endeavoured to start an Elite athlete program about 18 months ago where we took aspiring and budding long distance runners who only needed a chance to showcase themselves to give them an opportunity of shooting for top places.
This year has been very productive so far with us winning numerous marathons in the Gauteng region. And we decided to offer them an opportunity of fighting it off with the big guns at a big race. Rockies sent a team down to Cape Town to participate in the Old Mutual Two Oceans Marathon Ultra 56km not knowing how our guys would fare.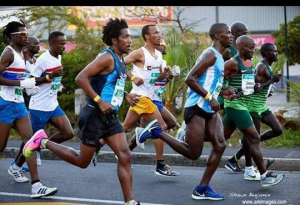 Puleng Maeko (left) and Raphael Segodi (right) in the front pack.
The club committee and the team are happy report that we managed to achieve a 6th and 7th overall position and walk away with the prestigious 1st MALE TEAM PRIZE!!!!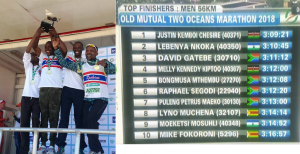 Yes, that's right. Our very own boys (men actually, some of these guys are older than I am) set out to achieve and they did. Against the odds. Against nations, individuals and teams with greater resources at their disposal than ours. What you have here is a classic example guys punching waaaaaaaaay about their weight and then holding their own. We got a hell of a lot of TV time that's for sure (more than yours truly at a "run to the death" Comrades).
We are immensely proud of our team and very pleased to see that our investment in talent is paying off as this is meant to be the purpose of a club, to help the best and brightest stars achieve to the best of their ability.
Below is a profile of the team that Rockies sent down.
Raphael Segodi
Raphael Segodi has been an absolute machine since joining the Rockies elites. He has been picking his races wisely and whenever he partakes he aims to really put on a show. He certainly did that by coming 6th overall. He remained composed all throughout the race and helped pep talk his fellow Rocky, Puleng Maeko, to finishing strong when he passed him.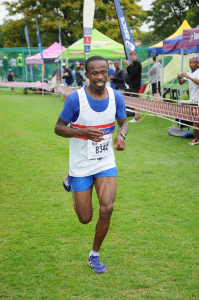 Raphael Segodi : Winner JG Zuma 2017 marathon . Winner Township marathon 2017. Winner Deloittes marathon 2015 and 2016. He works as a driver for a Johannesburg company.
Puleng Maeko
Puleng Maeko was at the marathon mark in 2nd position just behind the eventual winner form Kenya but cramps saw him having to take a breather at the 4km to go mark and lose some places before he managed to regain 7th position.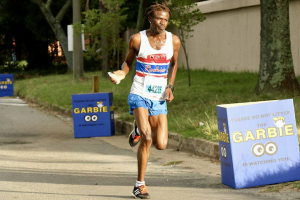 Puleng Maeko: Winner Johnson Crane 2018 @02:20:18. Winner RAC Tough One 2017 @01:44:20. He is unemployed for the past 10 years and makes his living by running.
Rofhiwa Mathidi & Lucas Rantho
Rofhiwa Mathidi and Lucas Rantho completed the 4 man team with 3:22 and 3:32 times respectively and this gave Rockies a combined time that was not even going to be challenged by any of the other top teams. Rofhiwa may have actually been burnt out for this race owing to the heavy and strenuous efforts he has been putting on in other races throughout this year so far.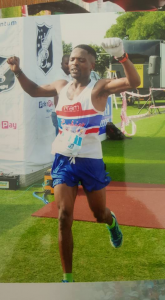 Rofhiwa Mathidi : Winner Pick n Pay 2018 marathon @02:28:55. Pos 3 at Om Die Dam 2018 50kms race 3:09:11. Pos 3 at Deloittes 2018 marathon. Winner of Irene ultra 2017 marathon 02hrs50mins. He works as a delivery driver for Midrand company.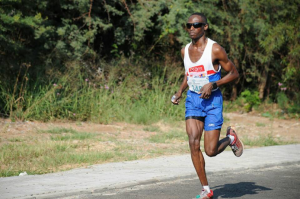 Lucas Rantho: determined to make a break through at Two Oceans . He works as an IT consultant.
Zongamele Dyabuni
Many of you already know Zongamele as the Club Coach but he is also an avid runner and occasional ass-kicker.
Zongamele Dyabuni went down as club coach but also as a bit part runner. I cannot explain this, maybe he can to you if you ask him. Whenever you see him, ask him why it's OK for the coach not to finish a race but his athletes must. Hell, technically speaking I have never ever had a DNF at a race before, I'd be livid with myself if I did as a coach, nogal!
Zongamele Dyubeni : our club Coach. Winner Pick n Pay 2017 marathon . Previous Winner of Loskop ultra marathon. He is unemployed. He makes his living from running and as a Coach for Rockies. He is also Coaching the 2017 Champion of Two Oceans.
Sam Bolo
Sam Bolo is the last of the team that went down for the race but I do not have much of a profile on him…..yet.
The club committee and Elite Squad management are looking at ways to take the team to the next level. Any ideas from anyone in the club are always welcome.
One of the most important items that is being reviewed is the matter of nutrition and how we can best support the team on the road as this is one of the shortcomings we have noticed. The aim is that at Comrades this year we will be able to have a decent showing so long as we can support them well enough on the road.
A word from our Club Treasurer regarding the recent success.
This morning l accompanied Matodzi and Shakir to Park Station to welcome back and congratulate our victorious runners who won the Mens Team Prize, at the Two Oceans Ultra Marathon.
Raphael Segodi and Puleng Maeko came 6th and 7th respectively. WHAT AN ACHIEVEMENT!
Rockies took a decision driven by Matodzi about 18 Months ago to put something back into road running, and it is now paying off. This year alone our runners have won Pick n Pay, Johnson Crane and Vaal Marathons, and also some other podium finishes. We're very excited about whats happening.
Let's try and increase our membership by talking to other runners from every runners aspect fast or slow. We offer a great deal what with free entries at certain races and organised transport and accommodation down to Comrades .So lets all make a concerted effort to take the Club to new heights.
Yours in Running,
Rodney Plett
We would like to congratulate all of those who finished the Two Oceans this year, not just our Elite squad. If you didn't finish this year, there's always next year.