Newsletter: September 2016

 
Yes, whassuppppp indeed!
It's our time to shine this weekend. In case you missed my constant harassing and infinite notifications it's the Sasfin Gerald Fox Memorial Fun Run/10/21.1km Race on Sunday 18 September.
We are anticipating over 4000 people to be there. But we'd like more because.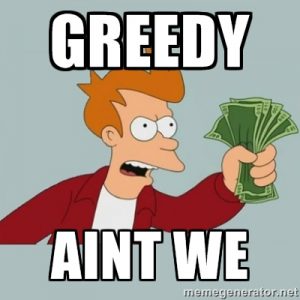 Invite your friends and family to come and partake! Remember, all finishers receive a medal, shirt and access to the Zoo! For what you pay and what you get we're almost giving this stuff away!
Just remember that YOU (yes, you reading this) are not allowed to run on Sunday. If we spot ya, well, let's just say horses heads are cropping up on people's beds on a more regular basis.
Some details pertaining to this weekend are below. Let's begin:
Race Helpers Run (aka Club Run)
Seeing as you are not allowed to race on Sunday we are offering you the chance to run the route with the club the day before. It's a really great vibe with lots of folks who are still getting into the whole running thing post all the silly races (ie. "The Big C" and "Wash-Me A Hundred Niles").
This is primarily for the helpers on race day but it is open to absolutely anyone. As always, the more the merrier. We meet and start/finish at the main/service entrance to the Zoo on Upper Park Drive, Forest Town. The distance will be 10km but if you can twist a few arms I am sure you will be able to convince some folk on doing a double lapper.
This is a fantastic run through our home suburb with all the trees giving shade.
Just note that if you go to Time Trials it may be a bit quieter than usual owing to this fact.
Date: 17 September
Time: 07:00
Start/Finish: Joburg Zoo Main/Service Entrance, Upper Park Drive, Forest Town.
Route: Gerald Fox Memorial Race Route
Race Helpers Information
Thank you oh so much to everyone who responded to my calls for help on race day.
My mustering of the Rohirrim is getting better but could still use a bit of work.
As part of your offer to help I am sure Les Sutcliffe has been in some form of communication with you regarding where he needs your face to be on the race route. You'll obviously need some colourful shiny regalia to get everyone to notice you and thus Les will be on hand to give that to you on Saturday after the helpers run. So if you are unable to come to the run because it is too early for you then you can come collect it afterwards. We should be there from around 08:30.
Otherwise, we will also be at the Zoo service entrance handing out pre-entry numbers from 11:00 until 15:00.
So make you sure you come get your bibs and flags the day before because on the morning of the race it's mental chaos.
Anyways, that's all I got for now. If there is anything else between now and then I'll be certain to let you know.
Shakir Dudhia